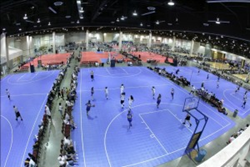 As the Amateur Athletic Union (AAU) continues to experience growth across the nation, the focus this weekend shifts to the 2014 Big Mountain Jam tournament taking place in Utah June 26-28th. This is also the home of SnapSports Athletic Surfaces, long time AAU partner and official flooring provider for many national tournaments including Big Mountain Jam. The 2014 Big Mountain Jam will feature over 28 SnapSports Indoor ShockTower® surfaces chosen for top ratings in performance and ease of installation. In addition to featuring the BMJ Team Camp and High School Team Tournament, Boys and Girls age 4th grade through varsity will comprise over 300 teams competing in the three-day tournament. SnapSports is ecstatic to have such a big presence at an event in their city.
"SnapSports is proud to be the official flooring of the 2014 AAU Big Mountain Jam. To partner with such a world class event hosted in our own backyard is an incredible opportunity; our team is looking forward to catching a great weekend of competitive basketball action." – Jorgen Moller, CEO SnapSports
The 5th annual Big Mountain Jam – All Under 1 Roof is presented by Jam On It Basketball Academy. 'Jam On It', now in its 23rd year of tournament hosting, is recognized as one of the premier event operators in the country hosting over 40 tournaments a year. Big Mountain Jam has shown exceptional growth since its creation with teams from Utah, Nevada, California, Idaho, Colorado, and Canada regular attendees of the event. The growth and influence of AAU continues to be applauded and recognized with another SnapSports partner, the NBA, vocalizing intent to strengthen their relationship with the organization. AAU tournaments are professional events that are fun and guaranteed safe for athletes of all ages. For the safest surface on the market, Big Mountain Jam chose SnapSports Indoor ShockTower®, the only modular surface with a shock absorption system built into the under-structure of the floor. Athletes, coaches, and AAU Officials alike look forward to competing on the tournament surfacing.
"With athletes of all ages competing in several games per day, it's the responsibility of AAU to provide a safe surface during play. SnapSports Indoor ShockTower surfaces guarantee better joint protection not to mention providing our tournaments with easy and fast installation." – Matt Williams, Governor AAU
SnapSports, the industry leader in modular athletic surfacing, is the official sports surfacing of the Jam On It organization. SnapSports multi-patented features, including the BounceBack, ShockLock, ReAcitvePlay® and ShockTower technologies work together to create the ultimate playing surface that is easy to use, resilient, and provides superior shock absorption easing the impact on players joints. SnapSports products are specifically engineered with safety and performance in mind, which is why they are the top choice of coaches, athletes and facility directors world-wide. SnapSports surfaces are approved for competition by FIBA, the world's governing body for the sport of basketball.