RaceDeck® garage floors, the world's leading garage flooring manufacturer and supplier continues its longstanding partnership with GoodGuys Rod & Custom Association, being named the Official Preferred Garage Flooring for 2014. GoodGuys® is the world's largest premier Hot-Rod association with over 120,000 participating members.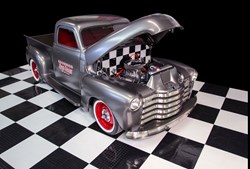 "Everyone here at RaceDeck loves being a part of the GoodGuys Rod & Custom Association; hot rods and their culture are in our blood. The people and their incredible rides are what we are all about and we're proud to be part of such a world class organization." -Jorgen Moller, CEO of Snap Lock Industries – manufacturer of RaceDeck® garage flooring.
In 2014, RaceDeck is scheduled to exhibit at numerous GoodGuys events around the country and will also be providing flooring for many of the GoodGuys showcased vehicles seen at each show. Members of the RaceDeck staff rave about the fun atmosphere promoted at the events as well as the awesome vehicles that are displayed. RaceDeck garage flooring is recognized as the world's leading manufacturer and supplier of residential & commercial garage flooring, as well as the portable event flooring often seen in car show displays and race paddocks around the world. RaceDeck is the 'original' modular garage flooring company, pioneering the industry seen today.
Many RaceDeck customers are avid hot rod, sport car & show car enthusiasts who are anxious to design a premium show place to park and display their prize vehicles. The multi-patented RaceDeck garage flooring system quickly and easily turns any garage into a personal world-class showroom and guarantees 'The Coolest Garage On The Block™'.
"The members of GoodGuys build and own some of the highest quality custom rides in the world. You will find that the same American Made quality and pride goes into every RaceDeck floor we manufacture, that is why we are the #1 choice of GoodGuys members and the industry as a whole," said Moller.
Goodguys offers over 20 car show events annually across the country from the Coast to the Coast and all points in between. Events feature thousands of candy colored hot rods and customs, tricked out trucks, mighty muscle cars, and regal classics sprawled throughout venues including lush fairgrounds, super speedways and large outdoor stadiums. Shows range from two-day affairs attended by 35,000, to three and four day extravaganza's attracting over 100,000 auto enthusiasts. If you want to see some of the coolest hot rod and street rod creations in the world, be sure to attend! For 'the coolest garage on the block', be sure to check out RaceDeck's website.