SnapSports® Athletic Surfacing will provide the official flooring for the Jam On It 2012 Reno AAU Spring Jam, to be held March 31 – April 1, 2012 at the Grand Sierra Hotel & Resort in Reno, NV. Athletes play all tournament and championship games on SnapSports multi-patented, high-performance athletic surfacing.
The Annual Reno AAU Spring Jam, hosted by Jam On It Basketball Academy, enters its 21st year of tournament hosting. Recognized as one of the premier tournament event operators in the country, and the Pacific AAU, bring together young athletes of various skill levels and age together to compete and celebrate their passion for basketball. All of the games during this two-day tournament will be played on SnapSports® multi-patented Athletic Surfacing, the preferred flooring of Jam On It – All Under One Roof Basketball Tournaments.
"The Flooring is awesome, (the players) love it, the way you install it, the way you clean it, the way we set it up, it's second to none and we tried all of the others." – Matt Williams, Tournament Director, Jam On It –All Under One Roof Basketball Tournaments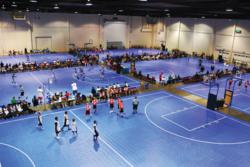 SnapSports Athletic Surfaces is the industry leading manufacturer of high-performance modular sports surfaces. SnapSports designed patented BounceBack® surfaces specifically to accommodate aggressive play. Patented ShockTower® technology also provides superior shock absorption and eases the impact on joints, creating a safer playing surface for athletes.
"We are excited for the opportunity to continue our long-standing relationship with this outstanding organization, and provide the type of high-performing sports floor these young athletes need to perform at the top of their game" – Jorgen Moller, SnapSports, Inc.