SnapSports®, the industry leading manufacturer and supplier of premium sports surfacing and outdoor athletic courts, was selected to provide their top rated BounceBack™ outdoor surface to be the featured court at The Heineken Premium Light Tennis Event.
Professional tennis star James Blake hosted the consumer charity event and welcomed the public onto the custom-built court to return a serve from a one-of-a-kind ball machine shaped like a 6-ft tall Heineken Premium Light DraughtKeg™ at a chance to win US Open tickets.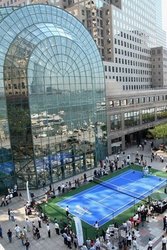 "It was exciting to be part of a world-class charitable event. I can honestly say, everyone here at SnapSports was proud to be seen by the world at the New York World Financial Center and honored to be chosen to provide the tennis court by Heineken USA," said Jorgen Moller, CEO of SnapSports®
Heineken USA Inc., the nation's premier importer, is a subsidiary of Heineken International BV, which is the world's most international brewer. Heineken is currently in its 17th year of sponsorship with the US Open, which will continue through 2010.
About BounceBack™
The SnapSports® BounceBack™ surfacing featured at the event is the top performing wet & dry out door athletic flooring for both residential and professional athletic uses. It has the highest level of shock-absorption and coefficient of friction to offer a safe playing surface.