SnapLock® Industries, the manufacturer of RaceDeck® garage flooring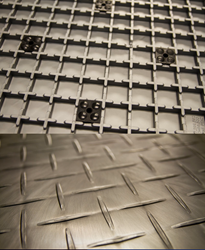 introduces their multi-patented ShockTower® Technology to the RaceDeck Garage Flooring product line.
The ShockTower® patented system incorporates eight independent shock absorbers, or ShockTowers, per square foot to attenuate sound and reduce stress on joints and muscles. This modular floor system is manufactured with TWO distinctly different materials molded into ONE floor.
ShockTower technology was first introduced nearly six years ago for the modular sports flooring line SnapSports®. Since that time, ShockTower revolutionized the modular sports flooring world and SnapSports has emerged as the industry champion.
"Our engineers spent a lot of time developing ShockTower for the harsh garage environment and they hit it out of the park on this one," said Jorgen Moller, CEO SnapLock® Industries.
The new system is fully compatible with all current RaceDeck® garage flooring styles. The customer also has the choice of doing their entire garage with ShockTower. Suggested applications include workstations, walkways, commercial and residential garages, or any environment where the user would benefit from a consistent, quiet and low-impact surface