Boys and girls from 32 teams will compete this weekend at the Grand Sierra Hotel for the Reno Spring Jam. Jam On It Basketball Academy hosts the event and features amateur basketballers from first through twelfth grade.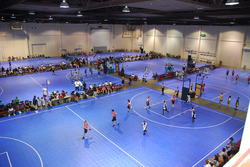 Tournament games will be played on SnapSports' BounceBack surface, a high-impact polymer designed to be safer and better-performing than traditional wood floors. Three courts, each 92′ by 56′ will be used in the tournament. Reno Spring Jam games will be March 27th-28th at the Grand Sierra Hotel and Resort, 2500 East Second Street in Reno.
"We're proud that the AAU has chosen to use our SnapSports BounceBack surfacing for their tournaments. Player and coach feedback has been tremendous," said Jorgen Moller – CEO SnapSports.
BounceBack is the only modular sports surface that offers 'patented' performance and safety features such as the ShockLock™, ReActivePlay™, and a Dual Suspension Understructure which help reduce injury to players and provide the highest level of performance. SnapSports is a FIBA Associate Manufacturer for the Indoor BounceBack basketball surface.
The AAU is one of the largest non-profit volunteer sports organizations in the United States. A multi-sport organization, the AAU is dedicated exclusively to the promotion and development of amateur sports and physical fitness programs.