SnapLock Industries, Inc. was awarded a US patent for their AccuPark Parking System. The system is essentially a modified garage floor tile with two raised ridges which, when driven over, signal the driver to stop.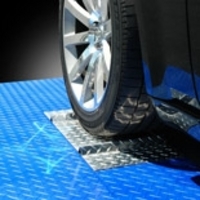 The brushed aluminum AccuPark system integrates seamlessly with other SnapLock products. It can also be used for temporary or portable applications over any surface.
"The AccuPark System is a clever solution for a common problem. We know it'll save a lot of bumpers and walls in the future," said Jorgen Moller, CEO of SnapLock Industries, Inc..
The AccuPark system interlocks with all RaceDeck products.