Salt Lake City based SnapLock Industries, the worldwide leading manufacturer of modular flooring products, is honored at the Utah 100 luncheon hosted by The MountainWest Capital Network.
Each year an impressive group of high-growth applicants is considered for the Utah 100 Awards. For the fourth consecutive year, SnapLock Industries accepts the honor of being one of Utah's top 100 Fastest Growing Companies. MountainWest Capital Network hosted the 14th annual awards ceremony in Salt Lake City where more than 1,500 of Utah's most successful entrepreneurs and business leaders attended.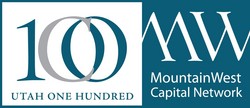 The Utah 100 Program recognizes the 100 Fastest-Growing companies and the 15 Largest Revenue Growth companies in the state. The companies receiving awards this year had at least 170% growth over the past 5 years.
"We are proud to be a top performer in our industry and honored to be apart of Utah's elite. To make the Top 100 for four consecutive years is a testament to the incredible team we have here at SnapLock Industries. We are the only company in our industry to achieve this award," said Jorgen Moller, CEO SnapLock Industries.