Snap Lock Industries, the world's leading manufacturer of the garage flooring brand RaceDeck®, announced today the launch of their newest addition to their extensive product line, appropriately called the REVolution™.
SnapLock Industries pioneered the modular garage flooring industry in the mid 90's with the product line RaceDeck® . Since that time, the industry has boomed and has become the top choice of most garage flooring options today. Over the years, RaceDeck has introduced dozens of styles and currently offers more choices than all of their competitors combined.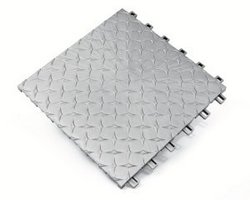 The new REVolution garage flooring was developed for the extreme needs of the commercial garage. "We have been working on the REVolution for sometime. We took everything we learned over the years from our customers & dealers and put it all into this new floor. The REVolution is without a doubt the toughest full-suspension modular flooring system in the industry," said Jorgen Moller, CEO of SnapLock Industries.
The REVolution flooring systems has multiple worldwide patents and patent pending features, from the innovative PowerLock® interlocking system to the unmatched SuperStructure that supports massive rolling loads. Together, they make the strongest and easiest to install modular flooring system. All of SnapLock Industries flooring products are proudly made in the USA.