More than 7,000 players from 25 states will compete in this year's Phoenix Volleyball Festival on SnapSports® BounceBack® volleyball surfaces. The event is one of the largest volleyball tournaments in the country, one of the most significant tournaments SnapSports surfaces are played on.
The showcase Red and Blue Championship Court comprises of multi-patented and patent pending SnapSports ShockTower® sports flooring. ShockTower has the top performance and safest play surface in the industry. Therefore, ShockTower offers players an added level of shock-absorption for high impact play. It's been the preferred surface of the festival for a second year in a row. This surface is also the preferred flooring of top athletes all over the world.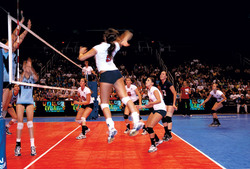 "We're thrilled to be a part of The Volleyball Festival for a second year in a row. Our SnapSports® premium volleyball surfaces were choosen above all others for the top volleyball players in the world to compete on and we think that says a lot about the quality and performance of our flooring!" says Jorgen Moller, CEO of SnapSports, Inc.
Tickets for the event are on sale now at the US Airways Center box office. The championship round will commence at the US Airways Center in downtown Phoenix on July 3rd. FOX Sports and Prime Ticket networks will broadcast.
About Volleyball Festival – the Volleyball Festival has been dedicated to expanding opportunities of young women athletes since 1984. Now in its 27th year, the Volleyball Festival serves over 10,000 athletes annually and is part of the International Volleyball Hall of Fame.