Called "the biggest basketball event in Utah history" by its organizers, the Amateur Athletic Union (AAU) All Under One Roof Big Mountain Jam will pit hundreds of teams from across the country against each other in Salt Lake City.
Boys and girls teams from four classes will compete during the Big Mountain Jam five day event, one of the largest amateur sporting events in the US. Middle school/high school, AAU club, men's church and Jr. Jazz /recreational teams will face off for the opportunity to call themselves the best amateur team in the country.
Over 82,432 feet of SnapSports BounceBack® flooring will be in play for the tournament's 16 basketball courts. A 10,360 square foot SnapSports handball court will also be installed at the same venue as handball players from across the state of Utah, and the Western USA, will gather for Salt Lake Handball Club's first major event. SnapSports is also the official sports surface for USA Team Handball.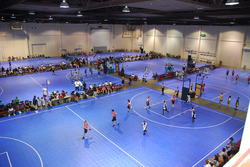 The Big Mountain Jam will continue from June 27 to July 3 and will take place at the South Towne Expo Center in Sandy, Utah.
"To have a world-class organization, which promotes healthy competitive youth sports and our partners at USA Team Handball, right here in our backyard, together, is fantastic! It's rewarding to be chosen as these organizations' exclusive sports flooring over all other competitors," said Jorgen Moller – CEO of SnapSports.
The AAU is one of the world's largest volunteer sports organizations in the country and its mission is to develop and promote amateur physical fitness and sports programs. AAU basketball players, both of the past and present, have a long history of dominating the rosters of the most distinguished basketball tournaments across the nation.