America's oldest, largest and most prestigious futsal tournament will be held July 8th through 11th at the Long Beach Convention Center. Teams with members ages 10 and up will compete for the opportunity to call themselves the best in the country
SnapSports®, the official and exclusive surfacing provider for USA Futsal Federation (USFF),the national governing body for the sport of Futsal in the United States, is furnishing eight courts totaling over 57,000 square feet for the major event. Each blue and red court measures 66′ x 108′ and has a play area of 60′ by 100′. SnapSports BounceBack ShockTower is the USA Futsal surface of choice because of the optimum cushioning the flooring provides. Foot control and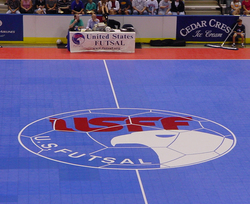 technique are essential in this fast paced sport and SnapSports ShockTower performs at the highest level for these outstanding athletes.
"Over the last 25 years, the game of futsal has progressed dramatically, especially in the US. We're proud that the world's top professionals choose to play on our courts and consider it a testament to the unmatched quality and performance of our sports flooring lineup" said Jorgen Moller, of SnapSports.
Futsal is a five-a-side version of soccer which is played on basketball-sized courts. The sport traces its roots to the 1930s and is today played worldwide. Futsal is currently experiencing explosive growth in the US. The US Youth Soccer Association (USYSA) and US Futsal signed an agreement in August of 1995 to promote Futsal in all National State Associations as their game of choice for indoor soccer. Many American soccer coaches use Futsal to train athletes, especially in the off-season.